Arts
Business and Computer Studies
Canadian and World Studies
Cooperative Education
Modern Languages
Studying a second language
By studying a second language, students learn a great deal about interacting effectively with others, because they have to focus closely on what it is they are trying to communicate, what they need others to understand and how their oral or written expression is received and interpreted.

As they learn to exchange information and ideas in another language, they also learn about other ways of thinking, other ways of doing things and other ways of living. They gain an appreciation of different cultures and the ability to function as a global citizen.

Knowledge of languages is also considered an asset by many employers, particularly jobs with the provincial and federal government as well as large companies that operate nationally or internationally.

McLaughlin offers French and Spanish courses. The French program is divided into Core French Courses and French Immersion.
Core French Program
The Core French program is offered at the Academic and Applied level. Grade 9 students who intend to work toward university preparation level courses in their grade 11 and 12 years should be taking Core French at the Academic level, particularly if they plan to study French throughout high school and seek the advantages of being bilingual later in life.

Grade 9 students considering future courses at the workplace or college preparation levels in grade 11 and 12 should enroll in the Applied Level course. All students must take French in grade 9 as a diploma requirement.

In grade 10, French becomes optional but can be used to satisfy the Group 1, Group 2 or Group 3 diploma requirements (see below). Grade 10 students can choose the Academic or Applied levels. In grades 11 and 12, the Core French program is only offered at the university preparation level.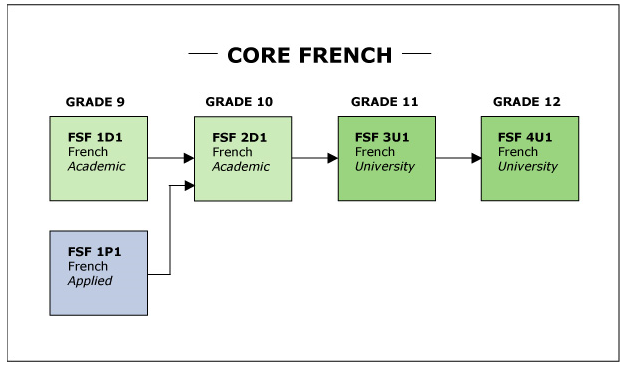 French Immersion Program
All DDSB French Immersion high school students who live in Oshawa attend McLaughlin CVI. When in a French Immersion program, students are expected to speak in French all the time. They must complete four French credits with an FIF course code in which students enrich their knowledge of the language through literature.

In addition to the four credits in language courses, students complete a minimum of six other courses conducted in French, such as History, Geography, Civics, Careers, Information Technology, Physical Education, Psychology/Anthropology/Sociology and World Issues.

Senior French Immersion students (grades 11-12) can also do a co-op placement in French to meet their immersion credit requirements or earn a credit as a peer tutor in French courses with younger students. Students receive a certificate for completing ten credits in French Immersion, four of which must be the FIF language courses. Students can choose between the Applied and Academic stream in grade 9 and 10, while students in grade 11 and 12 can choose university or open level courses (see below).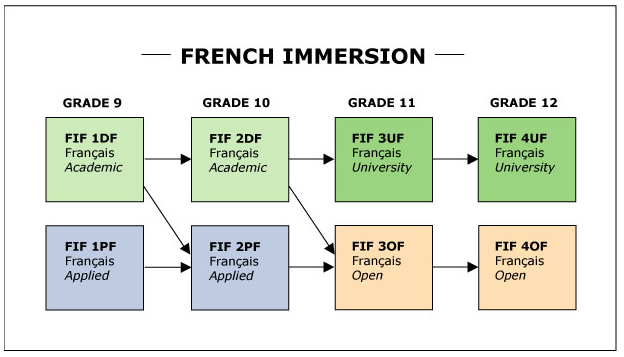 Spanish Program
MCVI students can study Spanish in grades 10, 11 and 12. Students do not require prior knowledge of the language to enroll in the grade 10 course, in which they will develop a foundation through interactive activities that develop their ability to listen, speak, read and write in the language with a greater emphasis on oral communication about daily interactions. They will also explore aspects of culture in the regions of the world where Spanish is spoken, gradually developing their level of vocabulary and knowledge of the language between grades 10 and 12.
The Grade 10 course is an academic level course while the grades 11 and 12 courses are offered at the university preparation level.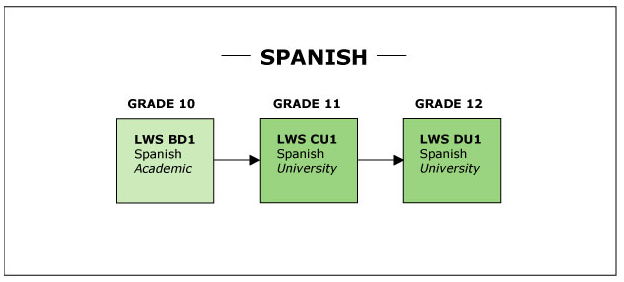 English
Guidance
The Guidance Department at R. S. McLaughlin C.V.I. provides a number of services to students and their parents or guardians. These services are offered through many venues, such as individual and group counselling, classroom presentations, educational and vocational planning, parent-teacher consultations, and community liaisons. Students and their parents are encouraged to make full use of the M.C.V.I. Guidance Services.
Students or former students who require a TRANSCRIPT should direct their inquiry to;
Karen Halliday at karen.halliday@ddsb.ca
UPDATE - For the 2022-2023 school year we have made booking Guidance appointments quick and easy! Please click on the link below and login with your student credentials to manage your Guidance appointment bookings.
https://guidanceinterview.com/s/mcvi
Deb Flintoff (Guidance Department Head) - Students with last names starting with A-G & University application inquiries
Chris Couch - Students with last names starting with H-N & College application inquiries
Mary Soln - Students with last names starting with O-Z & Scholarship inquiries
Please use the links below to access information about Guidance programs and activities, to plan high school programs, to research career choices, and to plan post-secondary futures.​
GRAD INSTRUCTIONS - 2023
Our Commencement Ceremony will be held on Thursday, June 29th at the Tribute Communities Centre, located at 99 Athol Street East, Oshawa. The ceremony will begin promptly at 3:00 p.m.
To ensure the processional enters on time, graduates must be at the Tribute Communities Centre by 2:15 p.m. Graduates and guests are to enter through the Main Entrance, Gate 1. Graduates only then proceed to the lower level of the Tribute Communities Centre to check in at the designated waiting room and receive an individual graduate card. Guests will proceed to the upper level. Seating is not assigned. After checking in with staff, students may wish to visit one of the two '2023' marquee photo settings on the same floor as guest seating. Graduates must return to the appropriate waiting room by 2:45 p.m. sharp. Note: You must bring your graduate card with you as you proceed towards the stage as it will be handed to our announcer.
Graduates and guests are reminded that it will be cool inside the venue, so please dress accordingly. Graduates should come dressed in their cap & gown. Caps must not be decorated. Cap tassel on the right.
Guests of graduates do not require tickets for entrance. Outside food and beverages are not permitted in the Tribute Communities Centre.
Please visit www.tributecommunitiescentre.com/plan-your-visit/directions-parking for information regarding parking. Parking at the venue is reserved for dignitaries and staff.
We look forward to celebrating the R.S. McLaughlin "Class of 2023" at this year's Ceremony!
Graduates are asked to RSVP regrets only to Karen Halliday at karen.halliday@ddsb.ca or 904-728-9407 ext. 215020.
Apprenticeship
Apprenticeship is a proven industry based learning system which combines job experience with technical training. Apprenticeship in Ontario is the responsibility of the provincial government which offers apprenticeship curricula in a variety of fields. For more information about apprenticeship in Ontario, please visit Ontario government Apprenticeship page.
Tradeability.ca is a collaborative effort between community partners in Durham Region, funded by the Province of Ontario and the Government of Canada. Their goal is to meet current and future market demand for skilled tradespeople in Durham Region. Use Tradeability.ca to access information about apprenticeship information and opportunities.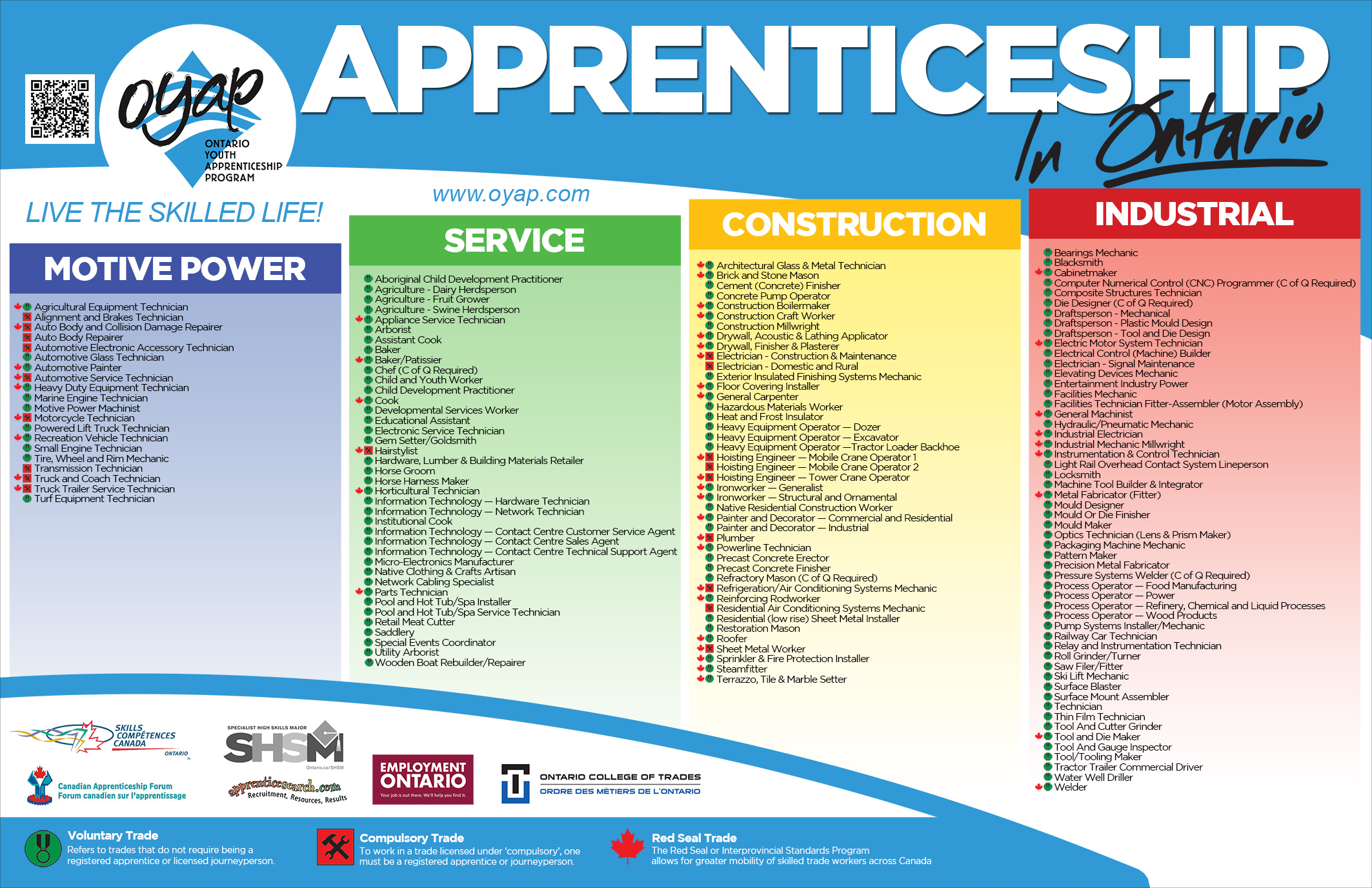 Career Counselling
myBlueprint
Students are able to access myBlueprint and utilize features targeted towards career exploration.
Working in Canada
Want to know if the job prospectives of your future career will be in demand? Check out this website. Not only does it provide you with information about salary, rates of employment by region and province, but gives you the facts on who is hiring right now. Working in Canada.
myBlueprint - Course Selections for 2023-2024
For the 2023-2024 school year we will once again be using myBlueprint for course selections, academic planning, post-secondary planning, career exploration and SHSM/Graduation tracking. In February of 2023 students will be able to log in to their myBlueprint account and choose their courses for next year.
Students can access myBlueprint via this link: www.myBlueprint.ca/ddsb
For an updated summary of graduation requirements please click here.
To see subject charts that show all course offerings from grade 9 to grade 12, please click here.
To view a video that outlines the course selection process and other considerations for student choosing their course, please click here. Students should contact their Guidance Counsellor for assistance with the process if needed.
Community Involvement
There is a Bulletin Board just outside of Guidance where opportunities to do Volunteering are posted as they come in. Students should consult this Bulletin Board if they are looking for opportunities to Volunteer. There are also several opportunities listed below - and the list is always growing!
Updated information about how COVID protocols have impacted our volunteer program can be found on the Google Classroom created for Grades 9-11 and the Grade 12-specific Google Classroom. Students should refer to those resources for further details.
Volunteer Energy for Durham Region has posted local volunteer opportunities and a search engine that will help students find a volunteer opportunity that is right for them. IF YOU ARE UNSURE ABOUT WHERE TO START YOUR SEARCH FOR VOLUNTEER OPPORTUNITIES - CHECK THIS OUT!!
Another great website to help students find volunteer opportunities is www.volunteerdurham.net
For a FILLABLE copy of the MCVI Community Volunteer Involvement Form please click here
Durham District School Board Mandatory Community Involvement Policy
For more information about the DDSB Community Involvement policy please click here
Course Calendar
A course calendar is available in myBlueprint that will outline the courses that are being offered for the 2023-2024 school year. If you are an MCVI student with a myBlueprint account you can click "High School" and then "Courses"​ to access it.
For an updated summary of graduation requirements please click here.
For parents and for students who are coming to MCVI from another school board - you are able to view our Course Calendar by clicking here
Students are asked to complete their course selections each year during the beginning of semester two. The deadline for course selections for this school year is March 2nd.
Exams
Click on the link below for MCVI's Exam Tips
Financial Aid Information
Scholarships and Bursaries
Students should investigate all opportunities for scholarships and bursaries.
1. Check the Financial Aid or Scholarship and Bursary information at the web site of the schools you have applied to. They will outline awards you will automatically be screened for, and also have information about scholarships and bursaries that require an application.
2. Use the following websites to research scholarships and bursaries:
Durham District School Board Scholarships:
https://www.ddsb.ca/en/programs-and-learning/scholarships-bursaries-and-awards.aspx
Government of Canada – International Scholarships:
http://www.scholarships-bourses.gc.ca/scholarships-bourses/index.aspx?lang=eng
MacLean's Student Finance Articles:
http://www.macleans.ca/tag/student-finance/
Scholarships Canada:
http://www.scholarshipscanada.com/
Scholar Tree:
Yconic (formerly "Student Awards")
OSAP: Ontario Student Assistance Program
There will be a presentation about OSAP made in April/May that interested students can attend.
Students apply for OSAP through the Financial Aid Office of the post-secondary school they attend. Once they have accepted an offer of admission from a school, they should complete the application.
Information about OSAP is available here
Grade 8 Transition Info for 2023-2024
Video - Parents/Guardians Information Night Presentation:
In the place of a traditional in-person "Grade 8 Parents/Guardians Night", we have created a video presentation that covers the same topics and will answer questions about the transition to Grade 9. Please click the link below to view the presentation.
NEW*** Online Learning Graduation Requirement
Beginning with the cohort of students who entered Grade 9 in the 2020-21 school year, all students must earn a minimum of two online learning credits as part of the Ontario Secondary School Diploma unless they have been opted out or exempted.
To review the list of NEW Graduation Requirements please click here.
For more information about the Online Learning Graduation Requirement please click here.
Families wishing to opt-out of the mandatory online courses required for graduation must complete the "Opt-Out Form.". The Opt-Out Form will need to be submitted to the school for processing and storage in the student's OSR. Options for doing this are to submit a printed copy of the form to the Guidance Office or to submit an completed electronic copy to karen.halliday@ddsb.ca
Exemption: Remote Learning Credit Earned in 2020-2021
The ministry recognizes the extraordinary circumstances of the COVID-19 pandemic. As a result, up to one secondary school credit completed by Grade 9 students in the 2020-2021 school year during the province-wide school closures (from April 2021 to June 2021) may be counted towards the graduation requirement.
If you have any questions regarding the Online Learning Graduation Requirement please contact the Guidance Department.
Mental Health Resources
For Access to the current Youth Service Guide please click here
Resources for Everyone:
Durham Wellness Hub (https://www.facebook.com/DurhamWellnessHub/)
The Durham Wellness Hub is an online space to connect youth and parents with mental health resources and supports within the Durham Region as well as to inform our community on mental well-being.
Be Safe App (https://mindyourmind.ca/interactives/be-safe)
This app allows whoever is using it to create a safety plan, provides local mental health resources, helps the user create a "get help script", directs the user to the best options for his/her particular needs, and provides the user with a means of reaching out safely.
Canadian Mental Health Association Durham (http://cmhadurham.ca)
This website provides information related to mental health and various mental health concerns in addition to providing resources.
Jack.org (http://www.jack.org/)
Jack.org is a network of young people who aim to change how we think about mental health. These young leaders have developed initiatives and programs for young people in an attempt to end the stigma surrounding mental health.
Distress Center Durham (http://www.distresscentredurham.com/)
This organization provides a 24 hour telephone helpline service in addition to an LGBT PrideLine helpline, suicide survivor support groups, and more.
Durham Mental Health Services (http://dmhs.ca/)
This organization provides services and supports to those who are living with mental health concerns and to their families.
Mind Your Mind (https://mindyourmind.ca/)
This website provides interactive tools and resources that aim to help teens build resiliency. The aim to promote wellness and support those living with mental health concerns.
Teen Mental Health (http://teenmentalhealth.org/)
This website provides information related to a variety of mental health disorders and includes information related to resources and supports.
Talking About Mental Illness (or TAMI) Durham (http://tamidurham.ca/)
This website provides a variety or resources and information surrounding mental health. It even has a "Youth Portal" which is designed specifically for young people.
Kids Help Phone (www.kidshelpphone.ca)
Kids Help Phone provides phone and web based counselling for youth age 20 and under. Counselling is anonymous, confidential, free of charge, non-judgemental, and available 24/7.
Need help now? Text CONNECT to 686868
By texting CONNECT to 686868, you can chat confidentially with a trained, volunteer Crisis Responder for support with any issue — big or small. Our texting service is available 24/7/365. You don't need a data plan, Internet connection or an app to use it. Remember, all conversations between young people and volunteer Crisis Responders are confidential.
National Institute for Mental Health (www.nimh.nih.gov)
The National Institute of Mental Health (NIMH) is the lead federal agency for research on mental disorders in America. It provides information related to various mental health concerns, signs/symptoms, risk factors, and treatment options.
National Network for Mental Health (http://nnmh.ca)
This organization aims to educate and provide resources surrounding mental health in addition to advocating for those experiencing mental health concerns.
Resources for Parents:
Helping Other Parents Everywhere or H.O.P.E. (http://hope4parents.ca)
HOPE provides a support network for parents, guardians, and relatives who are concerned by the behaviours of a teen in their life.
Parents Guide - Teens Can be Resilient in High School ​
(https://www.durham.ca/en/health-and-wellness/resources/Documents/MentalHealth/teenscanparentGuidefinal.pdf)
New Registrations
For information on how to register, please click here.
Post Secondary Information
Choosing the appropriate post secondary pathway is very important! Research is a key component in making the best decision for your future.
Check out our Post-Secondary Planning guide by clicking here
For stories on how to be successful in your last year of high school and how to get into your dream post-secondary program - click here
COLLEGE
Students interested in finding out about Ontario Community Colleges should use the Ontario College Application Service (OCAS) web site. This site has links to all Ontario Community Colleges, as well as a program finder. Students apply to college through this web site. Research "Program Choices" by keyword after clicking here.
To view the 2022/23 College Application Guide - click here
2021/22 College Application Video tutorial - click here
2022-2023 MCVI Post Secondary Pathways Presentation - click here
UNIVERSITY
Thinking of attending university? Click here and research under the "Programs" tab to locate possible degree choices.
Ontario University Application Centre - click here
To access "how-to" videos for the OUAC 101 Application - click here
2022-2023 MCVI Post Secondary Pathways Presentation - click here
WORLD OF WORK
Don't forget to do your career matchmaker profile on myBlueprint if you would like to investigate career options!
Please see Guidance counsellors for clarification.
Employment Links:
Ontario Job Futures: featuring 5 year employment outlooks and other relevant info for more than 200 occupations significant to Ontario's economy. This site outlines qualifications for the professions as well as projection of how in demand various occupations are projected to be in the future.http://www.tcu.gov.on.ca/eng/labourmarket/ojf/
Employment Profile: featuring information about graduate outcomes and satisfaction to help people choose programs at Ontario's publicly funded colleges.http://www.tcu.gov.on.ca/eng/labourmarket/employmentprofiles/
Best Jobs of 2018: MacLeans reports on the most "in demand" jobs of 2018. Click here
Presentations/Student Pathway Resources
2022/23 Choosing My Success - click here
2022/23 Refining My Pathway - click here
2022/23 Designing My Future - click here
2022/23 Pathways to Student Success - click here
For an updated summary of graduation requirements please click here
Summer School 2023
Summer School registration is now available. Students can choose from options to recover credits, or to reach ahead to take a new subject for the first time. Courses may be offered in person, and/or through asynchronous eLearning. Students will make their selections through the "Continuing Education" tab on their myBlueprint account. A Guidance Counsellor will then review and approve or make adjustments. Instructions are also posted on the Guidance google classrooms.
For more information about Summer School programming click here.
Specialist High Skills Major Program (SHSM)
Please click on the links below to view information about the 4 SHSM programs available at MCVI
Information & Communications Technology
Health and Physical Education
For information about the Physical Education Department, including available courses and pathways, extracurricular sports teams and clubs, please visit the Health and Physical Education Department website.
Library
MCVI Library Website
Mathematics
Grade 9-11 students who require extra help in math are encouraged to visit the TVO Mathify website. The link is provided below.
Science
Social Sciences and Humanities
Special Education
General Programming Information:
Parent's Guide to Special Education
For MCVI Staff and Students:
Request for Electronic Novel or Text
Academic Resource Booking System
Technological Education